Located in Giardini Naxos, is the best place to enjoy a total relaxing stay: 5 minutes far from the sea, the facility has an open air swimming pool, a wide garden to relax or simply read a book, and accomodations with a small terrace or a balcony.
The apartments at Residence Villa Collina (2, 3 or 4 beds) have an area ranging from 27/31 square meters for studio flats, to 34/40 square meters for two-room apartments and are equipped with kitchenette with a complete set of utensils and accessories, dining table, bathroom with shower, balcony or terrace.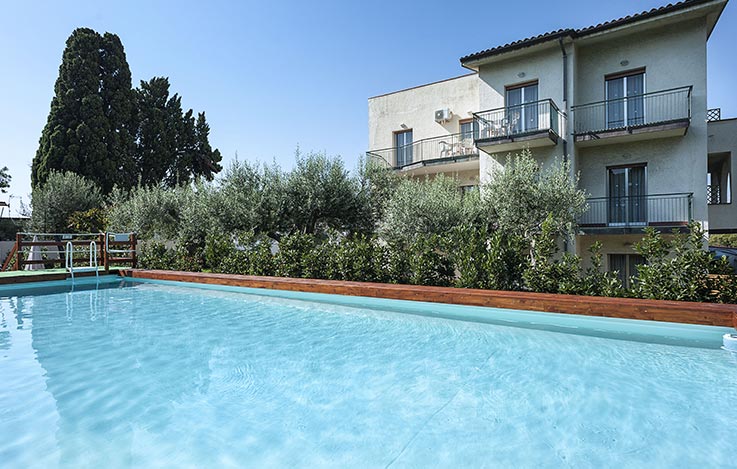 Excellent position
The area where the property is located is well served by various shops within easy walking distance.

Beach
The beach has free areas or beach clubs which offer a wide range of services: bars, restaurants, beach chairs, umbrellas and showers as well as the possibility to rent jet skis, canoes and paddleboats.

Historic center
The historic center of the city, where the fascinating archaeological area of Giardini Naxos rises, can be reached in only 10 minutes. Here you will find bars, restaurants, pizzerias, ATMs and pharmacies.
minutes from the historic center
Verificata
excellent The staff are super helpful especially Martina .She always respond to our request.The cleaners are very clean and make sure we have clean towels .The apartment very close to beach ,bus stop and Deco supermarket.The bus ride to Taomina Gardini train station is only 7 minutes journey and from the station you can travel to Catania , Messina and across to southern Italy by train.Is good location and highly recommended
Verificata
Expérience très agréable Le studio est pratique, il y a tout le nécessaire. La vue du balcon était merveilleuse. Comme il n'y avait pas beaucoup de monde à la fin avril, le personnel a été gentil d'améliorer la réservation et de me proposer la chambre avec vue sur la mer. Un seul petit bémol, je n'ai trouvé la prise que près du micro-ondes, donc j'ai dû alterner la bouilloire, le micro-ondes et le téléphone.
Verificata
Amazing experience This hotel is a great option if you're looking to visit Taormina without staying in it's expensive hotels. This hotel was perfect considering it's price and location. The staff were extremely friendly and helpful, there were no issues with the room, the pool was incredible to cool off in as it gets very warm for us foreign brits travelling all day around and the location is up a road 3 minutes away from the local beaches, bars and restaurants which were all lively. I read that previous customers had an issue with the noise from the roads outside the hotel but I found that I didn't have this issue as long as any balcony doors are shut during the night. I highly recommend Villa Collina to all who are travelling to explore Giardini/Taormina for the first time. I'd happily come back and stay again if I could!
Verificata
Piacevolissimo soggiorno Siamo appena rientrati da un soggiorno di due settimane presso il Residence Villa Collina e devo dire di essere molto soddisfatta. Il residence è confortevole, pulito, carino e (cosa non da poco!) dotato di letti comodissimi. Molto gradito il servizio di riassetto dell'appartamento ed di cambio della biancheria, mentre anche la piscina (se pur piccola) è un confort in più. Ottimo rapporto qualità / prezzo. Consigliatissimo!
Verificata
Esperienza positiva Ho passato una settimana nella struttura di Villa Collina. Eravamo in 4 amiche, ci hanno dato un bell'appartamento al piano terra. L'appartamento è composto da un bagno, camera ampia e ambiente con 2 letti singoli e angolo cucina. Ogni stanza è ben strutturata, accogliente e funzionale. Le due stanze hanno una porta-finestra che dà al giardino privato attrezzato con tavolo e sedie, ottimo per i nostri aperitivi/merende e relax. La struttura dispone di una piscina ad uso gratuito per gli ospiti. Pur essendo in 4 in un bilocale, non ci siamo sentite costrette, perché le stanze sono ariose. In quanto ospiti del residence, si può accedere anche alla piscina e bar/ristorante di Villa giardino, a pochi metri una dall'altra Il personale è cordiale e premuroso, hanno accolto con cortesia tutte le nostre esigenze. L'appartamento viene pulito ogni 2 giorni con cambio della biancheria da bagnoÈ situato in un ottima posizione rispetto alle spiagge e al lungomare, comodo anche per raggiungere l'autostrada se sei in auto e ben servito dagli autobus. A piedi si raggiunge in pochi minuti la strada che la sera diventa pedonale, con locali e negozi. Attorno ci sono più di un supermercato ed esercizi vari.Sono molto soddisfatta della mia esperienza, sicuramente la consiglio e ci ritornerò
Verificata
+comfortabele ruimte met airco, goede bedden, schoon apartement, - veel verkeerslawaai, douchecabine te kleinn zie ook boven. twee balkons. Uitzicht op de Etna, maar ook op drukke verkeersweg. Het verkeer went trouwens wel. Zwembad aanwezig en gratis ligbedden. Receptie is bij Hotel Villa Giardinia 100m heuvelafwaarts. Daar is een eenvoudig restaurant (zeer schappelijke prijzen en je kunt ook eten meenemen) en nog een zwembad. (toegang €2,50 pp per halve dag.) Verder vriendelijk en behulpzaam personeel. Het strand is op 500m afstand. Je kunt daar ligbedden €8 per dag en parasol €4 per dag huren. Er lopen daar wel allerlei verkopers rondParkeren kan alleen bij hotel, kost €6 per dagVoor minder validen niet geschikt. Complex ligt op een heuvel en er is geen lift.
Verificata
Nice spacious Room We stayed with 2 adults and 2 teenage children and had plenty of space. All the amenities you need. Check in was a bit inconvenient, you had to check in at Residence Giardini (which was down the road) then drive up to Villa Collina, unload luggage then drive back to Residence Giardini to park your car. Hotel was approx.10 min walk to the main street where all the restaurants were. There are no places to eat close to hotel. We went in October and place was very quiet, most places closed for the season
Loretta_Christo
21/10/2019
WiFi
Free WiFi in the apartments and in the common area

Non smoking
Entirely non smoking structure

Air conditioning
The apartments are equipped with ceiling fans and air conditioning

Family rooms
Availability of family rooms

TV
TV LED 32" with satellite decoder for free channels

Safe

Cleaning
Daily cleaning and bed making service Paid Services

Change of bath towels
Change of bath towels and/or bed sheets and pillow cases Paid Services



Beverage vending machines
Snack and beverage vending machines Paid Services

Sun beds and umbrellas
Available for a fee at the seaside resorts Paid Services

Sport
Scuba diving, water sports facilities Paid Services

Rent
Bike rental, car rental Paid Services
Apartments are fully furnished
All apartments are fully furnished and equipped with bathroom and kitchen or kitchenette. The price includes bed linen (sheets, pillowcases and bedspreads), towels (1 large terry towel, 1 medium towel and 1 small towel per person, plus 1 bath mat) and the final cleaning.
For weekly stays booked directly from Website there are three times of cleaning and change towels.
Extra change of bed linen and/or bath towels or room cleaning is subject to charge.